Lewis Hamilton wins Belgian Grand Prix to narrow gap in F1 title race
On August 27, 2017
In Sports
No Comments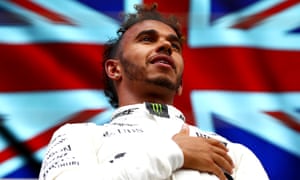 There has been an ebb and flow to this season's Formula One world championship lending it a narrative that defies a prediction of its ultimate denouement with any confidence. The Belgian Grand Prix was yet another chapter that added fascinating depth to the rapidly approaching finale.
Lewis Hamilton won the race, continuing the sequence this season that has seen no single driver take back to back wins. Proof in itself how the advantage has swung between the lead protagonists Hamilton and Sebastian Vettel, who was second in Spa. But while the pair went wheel to wheel only twice over the 44 laps, their battle was absolutely intense, lasted the full distance and, crucially, was telling in how the remainder of the season might unfold after Hamilton narrowed the gap to his rival to just seven points.
The pair had not engaged in a duel that saw them repeatedly exchanging places but it had been very much a hard-fought battle that was appreciated by the crowd of 100,000 in the Ardennes. Hamilton, in his 200th grand prix, had led from pole to take his 58th career win and that pole, equalling Michael Schumacher's record of 68, turned out to be absolutely crucial given how closely matched the pair were. Vettel remained within a second and a half of Hamilton for almost the entire race, demonstrating a pace that puts the Ferrari much closer to Mercedes on a circuit that was expected to strongly favour the characteristics of Hamilton's car.
On the opening lap Vettel almost made it tell, coming alongside Hamilton on the Kemmel Straight but the British driver held his nerve and a defensive line, keeping the lead into Les Combes. After a safety car restart Vettel tried again in the same place but once again was thwarted. He could stay with the British driver but not pass.
Hamilton acknowledged how tough a meeting it had been. "They have put in a fantastic fight," he said. "The speed and pace they had was very strong. There was no point at which I was comfortable. Both of us were pushing for every single lap. It was like a sprint race, no room for error or the smallest mistake. There were strengths and weaknesses on both sides, we were constantly exchanging times."
Vettel also enjoyed their tense tussle at the front. "It was a very good race, good fun," he said. "The quality was very high but I never really had a chance. Maybe half a chance, quarter of a chance but the positive thing is that we had very good race pace. Overall the car was very good."
The low-downforce, high-speed and sweeping fast corners of Spa had been expected to benefit Mercedes with their car designed to be optimal on such circuits, as they proved at Silverstone. But Ferrari have clearly moved forward since the British Grand Prix. Vettel stayed with Hamilton from the flag, ultimately leaving the Red Bull of Daniel Ricciardo, who was third, fourth-place Kimi Raikkonen and fifth-place Valtteri Bottas in their wake.
Vettel had his second chance after a safety car prompted by yet another clash between the two Force India drivers, Sergio Pérez squeezing Esteban Ocon into the wall on the run down to Eau Rouge, prompting Ocon to warn that the Mexican driver had risked their lives.
The free pit stops it afforded were opportune for both the leaders, with Vettel able to take the quicker ultrasoft tyres, having an unused set. Hamilton had criticised race control for the deployment, accusing them of trying to engineer a closer battle but he later admitted that this had been prompted by frustration because of the five laps spent behind the safety car.
But the stop was also beneficial for Mercedes who had been concerned about a blister on his right rear tyre, an issue solved with the stop. They were also confident that could he survive the restart in front of Vettel, the soft compound tyre would prove stronger to the end and so it proved. Having seen off the attack at Les Combes once more, Hamilton took the flag by 2.3 seconds.
There was ultimately nothing to choose between them as Hamilton acknowledged and he expected the same for the remaining eight races. "It was fun to be racing against Sebastian at his best and the car at its best," he said. "I think they had the better pace today but fortunately I was able to just stay ahead. From today it looks like it is going down to the wire, the difference could be in the pendulum swinging a millimetre either way."
He will take heart that the gap in the championship is but a chink, while F1 heads to Monza next week, another track at which Mercedes could expect to be strong but where they can take nothing for granted, as Vettel noted. "We were nearly a second off in Silverstone. So it's a big step. I'm very, very happy. I think we are on the right track and I don't think we have a circuit we should fear from now."